Anker Radio is a voluntary organisation that provides entertainment to patients staying in the George Eliot Hospital, Nuneaton.
Find out more on Anker Radio.
Where to leave your bike when at George Eliot Hospital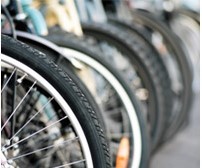 The hospital has two main designated bike sheds for staff, which can be used to store bikes and lock them securely. One is located next to the catering stores entrance and adjacent to the corridor near to the Chapel. Another small bike rack for visitors is located by the main car park. Contact the security team for further information.
If you suffer from loss or theft of property whilst at the hospital, please contact our security team on 02476 153 333, who will do their best to assist you.
Security and estates teams are currently looking at alternative solutions to strengthen security on site for both staff and patients who use bicycles.
Bicycle Safety Tips
The hospital would also like to share the following advice supported by information provided by Immobilise, the free national property database.
Always lock your bicycle wherever you leave it – it only takes seconds to steal an unsecured bike. Make sure it's locked in a well-lit public area with lots of people passing.
Be sure to plan ahead and check out amenities in the places you need to leave your bicycle – remember to read signs in the area you intend to park being sure not to park illegally.
Take removable parts with you, like bike lights, where possible.
Lock it. Only use a good quality D-lock. A poor quality lock at the lower end of the market can be easily sawn through or bolt cropped in seconds. It certainly pays to invest in the best quality lock you can afford. Always lock your bicycle to something immovable, an object a bicycle cannot be lifted over and cannot be broke, cut or removed i.e. chain link fencing, grilles, gates or trees – check the object is fastened to the ground. For maximum protection, use two locks of different types (a D-lock and robust chain and padlock is ideal). Use each lock to catch the wheels, frame and stand. Fill up as much of the space within the D-lock as possible with the bicycle.
Insure your bike. If you own a decent bicycle, then it is probably a good idea to insure it. There are several ways you can do this. You can insure your bicycle on your home contents insurance – don't forget to cover it for thefts away from home. More expensive bicycles may require specific insurance cover against theft and accidental damage.
Record details. Take photographs of your bike and consider registering your bike on the National Property Register Immobilise. Before registering take a photograph and record the frame number and key details as long as make and model. Mark your frame with your postcode in two separate locations if possible, one of which should be hidden. Collectively this information if stored at home or on your Immobilise account will be crucial in recovering your bicycle should it be lost of stolen. Remember that you're the frame or other identifiable codes could be removed by a thief and there are products available like Radio Frequency Identification (RFID) tagging of your bike as its virtually impossible to remove this from the bicycle's frame.
About Immobilise
Immobilise is the world's largest FREE register of possession ownership details and is helping to reduce crime and repatriate recovered personal property to its rightful owners.
The League of Friends cafe is now open during weekdays in the main building at George Eliot Hospital during week days.
The new refurbished cafe opened in 2022 following a complete refurbishment to update facilities and provide patients, visitors and staff with a comfortable environment in the hospital to get a refreshment and relax.
The cafe is provided by the League of Friends who are a dedicated group of volunteers who truly care and understand the needs of staff and patients.
PALS will help with enquiries and concerns providing on the spot resolution where possible. The service can also provide advice on whether your concerns should be passed to the Complaints Service. Please use PALS as your first line of contact so that we can try and sort any issues or problems for you. PALS can be reached on:
The Trust has two pharmacy dispensaries:
Main dispensary in the maternity unit on the ground floor
Satellite dispensary in the main outpatients' department
Opening times
Main dispensary: Monday to Friday, 9am to 5:30pm.

Saturday, 9am to 12 noon for emergencies only.

Satellite dispensary: Monday to Friday, 9am to 5:30pm
Contact
Raveloe Restaurant can be found on the first floor of the main hospital. This restaurant services hot food, tea and coffee and cold refreshments including sandwiches.
Vending machines service hot and cold food can also be found outside the restaurant and in the maternity building ground floor.
Opening Hours
Monday to Sunday.
Breakfast: 08:00 to 11:00
Coffee, Cakes, and Pastries: 11:00 to 12:00
Lunch: 12:00 to 15:00
You can find out more about our Chaplaincy Team and Multi Faith Centre and gardens on our Chaplaincy page.