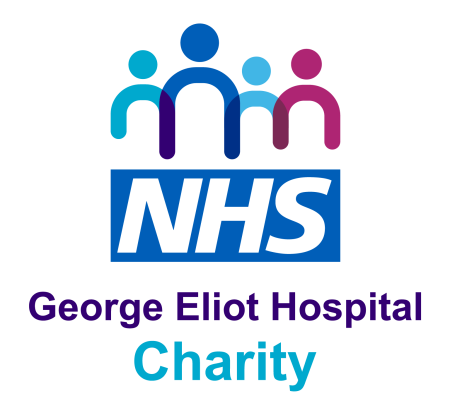 George Eliot Hospital Charity was established in 1996 to provide additional funding to support our Trust to provide excellent care to our patients and provide funding to develop staff wellbeing, training and a great working environment.
Furthermore, we want to support the Trust's vision "To Excel at Patient Care".
To achieve this, we will work together with our local communities, public and corporate partners to fund hospital projects that deliver real results for the people of Nuneaton, Bedworth, North Warwickshire, South West Leicestershire and North Coventry.
Over the next three years we want to invest more in the areas where we can have a greater impact to fulfil our core purpose. We're planning a period of significant growth in income which is driven by the growing needs and ambition of the Trust. Every member of staff, across all our hospitals, strives to deliver the best patient experience and relies on their charity to fund things over and above what the NHS can pay for - we don't want to let them down.
Our strategy sets out how over the next three years we will strive to be a better, more efficient organisation that has a lasting impact, benefiting not only the patients and their families who are cared for here in Nuneaton, but also the 2,500 committed NHS staff.


It is only through the kindness, generosity and hard work of our supporters raising vital funds for George Eliot Hospital Charity that we can do more every year to take us closer to achieving our vision to provide the best possible facilities and environment at our hospital. As a charity we are committed to making you proud to support our hospital and strive to adhere to an open and honest relationship with you.
We will keep you informed and updated about how we are spending your money, with specific emphasis on our four priority areas, they are: -
Patient and family support
We provide the extras that help to make time in our hospitals more comfortable for patients and their families.
Environment
By improving the hospital environment and creating a 'home from home' atmosphere, we make spaces more welcoming and comfortable for everyone.
Equipment
Funding state-of-the-art specialist medical equipment that would otherwise be unavailable ensures that our patients have access to life-saving diagnostics and treatment.
Staff development
By ensuring that staff have access to the latest training, development and emotional support, they can continue to provide the highest quality of care.
We are here to help make patients' lives better and your amazing donations and legacies enable the charity to help provide the extras that cannot be provided from NHS statutory funding but make a huge difference to our patients and staff.
We will be open and honest with you. We will listen to you, we will always be approachable, we will improve where we can, and if we mess up, we will take full responsibility!
To give you the choice about how we contact you and what we contact you about. We want you to know that you are in control and you can feel safe with us.
We are committed to delivering high standards, and will adhere to the Fundraising Regulator Promise.
To respect you as a person or organisation and your wishes. If you choose to cease giving to us, we will appreciate your support and make this process as easy as possible. But we will also welcome you back with open arms!
You have chosen to support our charity and that makes you amazing. We could not be more grateful. You are helping making patients' lives better.

What have we funded recently - highlights!
The Charity have funded a Wellbeing Officer role to support with the wellbeing of our colleagues within the hospital.
We have also funded a Freedom to Speak up position within the hospital to encourage an open working environment.
The Charity have been the major funder of the Serenity Garden which is due to be opened in June 2022 for the benefit stroke and dementia patients.
A ECG tip locator system was purchased for the Oncology team.
State of the art milk warmers were supplied to the Special Care Baby Unit that don't require the use of heated water.
Various art projects were funded by the Charity including some reflection works.
What have we funded recently - the detail!

Staff Welfare Officer
The welfare of our staff at George Eliot Hospital is of critical importance especially in these challenging times for the NHS. The Charity are pleased to report they have been able to fund a Welfare Officer role who will help co-ordinate and sign post staff to the wide range of welfare related services we have in the hospital. Going forward the Charity are committed to being the main source of income to support an increasing range of welfare services - watch this space for further news!


Freedom to Speak Officer
George Eliot Hospital have a Freedom to Speak Up policy to encourage colleagues to speak up about concerns you have at work is essential. It helps us to provide safe and effective care for our patients and ensures that staffs health, safety and wellbeing is looked after.


The Serenity Garden
The effects of stroke and dementia are profound. The impact can be physical; psychological; financial and/or social. These effects often extend beyond the individual to include family, friends and the wider community. Due to these issues patients affected by stroke and dementia may require inpatient hospital care. This can be a frightening, disorientating and upsetting experience for all. To support individuals affected by stroke and dementia during their hospital stay, we have created the Serenity Garden. The Charity were the major funders of this project due to be opened in June 2022.


ECG Tip Locator equipment for the Oncology unit
The Charity were pleased to able to wholly fund the purchase of a ECG Tip Locator for the Oncology unit which enables accurate central venous catheter tip placement. This enhances both patient and clinician satisfaction by minimising exposure to x-ray radiation.


Milk Warmers for the Special Care Baby Unit
The Charity purchased five state of the art milk warmers and thawers that helps to maintain the optimal integrity of human milk and to provide a safe, hygienic and standardised method for preparing feeds.


Artwork
The Charity have been supporting the installation of art throughout the hospital and continued to do so over the recent months. We have plans to increase funding for Art going forward including the Chapel.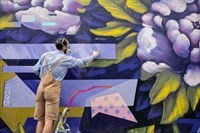 There are loads of ways to fundraise for George Eliot Hospital Charity, below is a handy list of ideas to stimulate your imagination and get you started.
Sign up to a challenge event, such as a local Fun Run, or if you're really up for a challenge, one of the infamous Wolf Runs.
Charity Auction – Auction off your talents or unwanted items to raise funds.
Dress Down Day – Lose the tie and wear your favourite outfit to work or school!
Bag Packing – Ask your local supermarket if you can hold a bag packing day. Help members of the local community while raising money!
Dance-a-thon – Spend the day throwing shapes and collect sponsorship money for your efforts.
Give it up! – Get sponsored to go without something for a week or a month, like alcohol, chocolate or coffee.
Host a quiz – Charge teams an entry fee and let the battle of wits commence.
Hold a Fashion Show – Dress to impress and raise funds along the way.
Sponsored Walk – If running isn't your thing, take it easy with a sponsored walk. Slow and steady wins the race.
Movie Night – Pop some corn and settle in for a good film. Charge friends and family for tickets and snacks.
Bake Off! – Channel your inner Mary Berry and gather friends and family to hold a bake off. Charge an entry fee and then sell the cake afterwards to raise even more money – providing there's any left!
Arts & Crafts – Show off your creative side and design something arty that you can sell to raise money.
Jumble Sale – Reduce and recycle by holding a Jumble Sale. Sell your unwanted items and free up some space, all while raising money for charity.
Sponsored Skydive – Fundraise at 15,000ft!
If you want to share your ideas or need any more information, please call us on 02476 153476 or email us on GEHCharity@geh.nhs.uk
For full information on how to set up your Just Giving Online, please visit : www.justgiving.com/geh.


GEH Charity greatly appreciates the support we receive from our local community, who enable us to enhance the services that we offer. Anyone can support us by fundraising within their community. Whether you're thinking about fundraising on your own, with family and friends, youth groups or community organisations we are here to help. Whatever you decide to do, you'll be making a real difference to our hospitals and community services. If you need inspiration, please look at our A-Z of ideas.
For full information on how to set up your Just Giving Online, please visit: www.justgiving.com/geh

We are grateful to the huge generosity of our business partners, who play a significant role in enabling us to improve the lives and welfare of patients and staff at George Eliot Hospital.
Building a partnership with George Eliot Hospital Charity is a wonderful opportunity not only to make a significant difference to the care offered to people treated across our hospital sites, but also to show the public the sort of company you are while bringing your employees together.
Support the community: many of your staff, clients and other stakeholders are likely to have had some contact with the hospitals within our network. Show your support for all the individuals linked to your company – and beyond.
Bring your staff together: teaming up for fundraising events is a chance for your employees to come together for a popular cause, boosting morale and encouraging unity within your organisation.
Make a real difference: our work directly enhances the care and wellbeing of patients across the Nuneaton and Bedworth, North Warwickshire and South Leicestershire. By contributing, you will be going beyond your day-to-day business to support the individuals most in need.Get in touch now to discuss the ways that together, we can make a difference. Please call us on 02476 153476 or email us on GEHCharity@geh.nhs.uk

There are lots of ways your school can get involved with George Eliot Hospital Charity.
·You could sign up as a team for one of our events
·Choose us as your charity of the year and we can work together on your fundraising.
·Have a look at our fundraising ideas above and see if there is anything that you think you would like to do.
How we can help you with your fundraising
·Chat about your fundraising ideas and how to maximise your fundraising
·Come along to assemblies or meetings to talk about how your fundraising helps the hospital.
·We can arrange for small groups to visit the hospital and present your fundraising to your chosen department
·Help you with fundraising materials for events such as leaflets and banners.

Raising money through one of our organised events is a great way to support your local hospitals. We are planning an action-packed calendar of fun, challenging and memorable events for you to choose from. Look out for more information coming soon.
Do Your Own thing – If you'd like to set up your own event, that's absolutely fine!
You might already have an idea or you could need some help – either way, get in touch and our fundraising team will be in touch to help. Please call us on 02476 153476 or email us on GEHCharity@geh.nhs.uk


There are a number of options available for you to get your fundraising money to us. You can also pay safely and securely online.
By post
If you would prefer to send a cheque to us in the post, please make cheques payable to 'George Eliot Hospitals Charity' and send to:
Cashiers Office (Estates Dept), George Eliot Hospital, College Street Nuneaton, Warwickshire CV10 7DJ
Please include a note giving your contact details so that we can write to thank you for your donation.
In person
If you would like to make your donation in person, please ask for a donation envelope at Main Reception and leave your donation with them who will direct your donation to the correct department.
Via bank transfer
You can also donate in person at the bank or by doing an online transfer. Please call us on 02476 153476 or email us on GEHCharity@geh.nhs.uk
They will be able to provide our banking details for use at any branch of (insert bank) and also details to use for a bank transfer or BACS payment.
Online
Pay in your fundraising safely and securely using at www.justgiving.com/geh
We will always acknowledge your kind donation and/or sponsorship by letter or email and will issue a receipt if requested.
Giving in memory is a special way to remember a loved one whilst making a valuable contribution to George Eliot Hospital.
You can pay tribute to the memory of someone special in several ways. You could donate, hold a collection at a funeral or memorial service, set up an online tribute page, collect donations to mark a special date, such as a birthday, or even take part in an event or challenge in their name.
It can be difficult to know how to pay respects to a loved one, but a meaningful and lasting way is by asking friends and family to donate to our charity.
Donations in lieu of flowers at the funeral
A donation in lieu of flowers is a simple and effective way for family and friends to donate in memory of a loved one. If you wish to do this, please speak to the funeral director. They will be able to offer you advice and will pass all donations received onto George Eliot Hospital.
Ask for donations at a funeral or memorial service
Most funeral directors can supply collection boxes to collect donations at a funeral or memorial event. We can also supply them if you get in touch.
Family and friends can also donate by cash or cheque. Please make cheques payable to George Eliot Hospital Charity and clearly state on the back which department that you would like your donation to go towards.
Cheques can be posted to:
George Eliot Hospital
Cashiers Office – Estates Dept
College Street
Nuneaton
Warwickshire
CV10 7DJ
Creating an In Memory Fundraising Page
Online fundraising is becoming increasingly popular, enabling people from all over the world to support a cause that is close to their heart. There are a variety of websites that enable you to set up a fundraising page in memory of a loved one. Below are links to two pages we would recommend:

Leaving a gift in your Will is a very special way of supporting George Eliot Hospital Charity.
Some people choose to leave a gift in their Will to say 'thank you' for the care that they've received from our doctors and nurses. For others, it's simply a way to ensure that their friends, family and neighbours will have access to world-class healthcare, should the time come for them to need it.
Whatever your reason for supporting George Eliot Hospital, by including a gift in your Will, you'll be making patients' lives better when they need it most. You will be making patients' lives better by improving the facilities and therefore enhancing the environment of patients and staff.
Including George Eliot Hospital Charity in your Will costs you nothing now, and it's easier than you might think.
Our promise to you
We know that writing a Will can sometimes be difficult and that complications can arise. We want to ensure that leaving a gift to George Eliot Hospital is as easy and stress-free as possible. We promise:
We absolutely recognise that those closest to you come first in your Will
We will never ask you the size or type of legacy if you decide to support our work this way
We will never ask you to tell us your intentions, but if you do tell us your intentions, we will then be able to say thank you – which is nice to do!
We fully understand that personal circumstances change and there might be a time when you must take George Eliot Hospital Charity out of your Will.
We promise to use your gift wisely for the benefit of future generations.
For more information, please contact us on 02476 153476 or email GEHCharity@geh.nhs.uk
Hospital charity launches it's 'More Than a Room' appeal
to raise funds for maternity bereavement rooms upgrade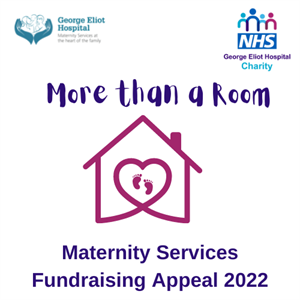 George Eliot Hospital charity have launched their 'More Than a Room' fundraising appeal with a target of £28,000 which will be used to upgrade the hospital's two maternity bereavement rooms, which are vital in helping parents deal with the loss of their children.
The charity is asking the local communities support by donating towards provide essential refurbishment for the two rooms at the heart of the campaign; 'Harry's Room' and the maternity Bereavement
Serenity Garden Official Opening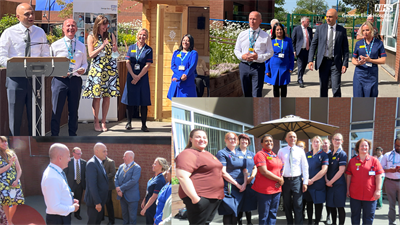 Thank you to all of the charity supporters who generously helped to bring the Serenity Garden project to life. The garden was officially opened by Sajid Javid, Secretary of State for Health and Social Care on the 17th June 2022.
Fantastic Fundraiser shaves her hair off for SCBU!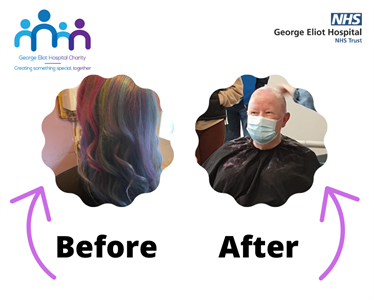 The before and after!!!! Fantastic fundraiser Helen Robinson has her hair shaved off for the Special Care Baby Unit at George Eliot Hospital!
Helen was joined by family and friends over the Jubilee weekend to have her shaved off by well-known local author Rosie Goodwin.
Helen also organised a superb raffle with some wonderful prizes!
Helen will be walking the Dalai Lama Trail in the Himalayas as part of her fundraising efforts this year, you can support Helen by visiting her fundraising page
https://www.justgiving.com/fundra.../helen-robinsondalailama
An amazing act of kindness!


An amazing act of kindness! A very generous ex patient gives up her birthday presents to donate £1000 to the Dorothea Ward at George Eliot Hospital!
Shirley Stoney of Bedworth who was a patient of the Dorothea Ward had asked family, friends and work colleagues to donate to the Dorothea Ward instead of buying birthday presents this year - amazing kindness!
Shirley is pictured handing over a cheque for £1000 to some of the fantastic team on Dorothea Ward!
International Nurses day!


The Charity recently supported out hospital colleagues for Happy International Nurses Day by purchasing cake and refreshments to help celebrate a special day in the calendar for our hard working and dedicated nursing staff.
We are so grateful for all your hard work and care you provide for patients, today and every day.
"In memory of a much loved brother"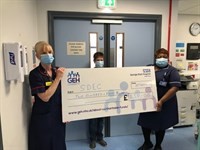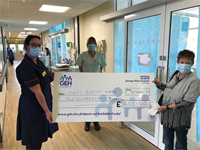 Karen Gibson, sister of Kevin Gibson who sadly passed away in February kindly donated a cheque for £250 to SDEC and £250 to Mary Garth wards at George Eliot Hospital.
The kind and generous donation was collected in memory of Kevin by his loving family and friends.
Thank you so much on behalf of the staff and patients at George Eliot.
Easter egg donation from Bedworth Saints Scooter Club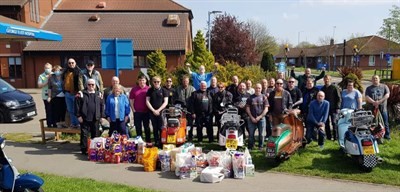 Thank you to Bedworth Saints Scooter Club who recently visited us to deliver their kind donation of Easter Eggs that they'd collected for our wards. Thank you all so much.

In this section