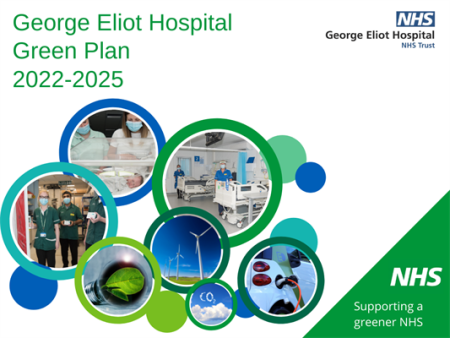 George Eliot Hospital used World Earth Day on April 22 to highlight the actions it will be taking to help create a sustainable future by publishing our Green Plan 2022-2025
Covering nine main areas, the Green Plan 2022/25 describes how the Trust will focus on sustainability and low carbon practice as it helps the NHS to become the first health service in the world with net zero greenhouse gas (GHG) emissions.
Initiatives include greater agile working for office staff to reduce commutes, introduction of electric vehicle charging points and investigating the feasibility of solar panels to produce electricity. Other measures involve increasing the number of recycling bins on site and recycling of food waste.

The Trust has also set targets to reduce business mileage by staff by 10% and to reduce general waste by 5% each year.
The Green Plan builds on steps already taken to reduce George Eliot Hospital's impact on climate change. Successes include a renewably sourced electricity supply, a new cycle to work scheme and smart LED lighting, which reduces energy use.
Jennie Northcote, Chief Strategy Improvement and Partnerships Officer said: "Our actions on climate change affect the health and wellbeing of our families and loved ones not only today but for generations to come. The effects of climate change are happening on our doorstep and in our local neighbourhoods, often impacting most on communities already experiencing health inequalities which affect their everyday lives.
We want to act by example and our Trust Green Plan is making that commitment. Our journey to net zero will mean changes for how we provide care and we will be listening and involving our workforce, partners, and local citizens to deliver this plan."
For more information and to view the Trust's Green Plan visit George Eliot Hospital Green Plan
Progress of our Green Plan can be found in our Board Papers.