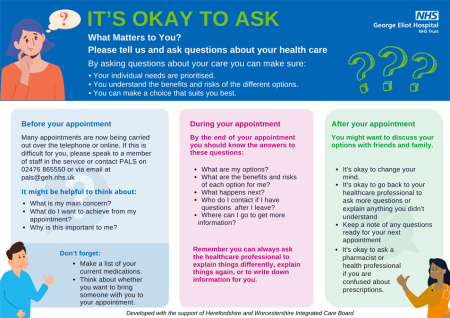 You are the expert on what matters to you
We want you to know that it is always okay to ask questions of health and care professionals. By asking questions, professionals can understand your needs and priorities. This will help you to work together to make plans that best meet your priorities.
The information below can help you to get ready for your upcoming appointment. It might be helpful to work through it with a friend, family member or carer. We hope that it will help you to be actively involved in decisions about your health and care.
Encouraging you to ask questions is part of the NHS plan to make health and care more personal to you.
Let us know what matters to you about your healthcare. Please tell us and ask questions about your healthcare.
By asking questions about your care you can make sure:
Your individual needs are prioritised.
You understand the benefits and risks of the different options.
You can make a choice that suits you best.
Many appointments are now being carried out over the telephone or online. If this is difficult for you, please speak to a member of staff in the service or contact PALS on 02476 865550 or via email at pals@geh.nhs.uk.
It might be helpful to think about:
What is my main concern?
What do I want to achieve from my appointment?
Why is this important to me?
Don't forget:
Make a list of your current medications.
Think about whether you want to bring someone with you to your appointment.
By the end of your appointment you should know the answers to these questions:
What are my options?
What are the benefits and risks of each option for me?
What happens next?
Who do I contact if I have questions after I leave?
Where can I go to get more information?
Remember you can always ask the healthcare professional to explain things different, explain things again, or to write down information for you.
You might want to discuss your options with friends and family.
It's okay to change your mind.
It's okay to go back to your healthcare professional to ask more questions or explain anything you didn't understand.
Keep a note of any questions ready for your next appointment.
It's okay to ask a pharmacist or healthcare professional if you are confused about prescriptions.
Main switchboard: 024 7635 1351
When calling our switchboard you will be able to get to the area you need quicker by selecting one of the following options:
Option 1: A&E Reception
Option 2: Pathology Department
Option 3: Radiology Department
Option 4: Physiotherapy Department
Main e-mail address: enquiries@geh.nhs.uk
Main postal address: George Eliot Hospital NHS Trust, College Street, Nuneaton,Warwickshire, CV10 7DJ
Twitter: @GEHNHSnews
Outpatient Appointments: 02476 865050 (Call Centre)
Please call the above contact numbers if you wish to change or cancel and appointment.
Please note that the Outpatients Call Centre current opening times are as follows:
Monday to Friday, 9am to 4pm
Saturday and Sunday, closed.
Patient Call Centre Email: patientenquiries@geh.nhs.uk
Elective Appointments: 02476 351351 (Main switchboard will transfer your calls to the relevant specialties)
We are currently experiencing high demand in our Outpatients Call Centre therefore it may take longer for us to answer your call. We ask for your patience at this time. If your request is urgent please email it through to patientenquiries@geh.nhs.uk.
Patient Advice and Liaison Service (PALS)
PALS will help with enquiries and concerns providing on the spot resolution where possible. The service can also provide advice on whether your concerns should be passed to the Complaints Service. Please use PALS as your first line of contact so that we can try and sort any issues or problems for you. PALS can be reached on:
You can download the documents below to help you plan for your appointment or visit: