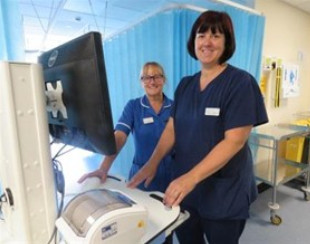 Contact Details
Tel: 024 7686 5149
Ward Manager - Jack Simpson
Clinical Sister - Dawn Cuddy
---
Adam Bede is an 18 bed ward based on the first floor of George Eliot Hospital (based near the Cheverel entrance).
The ward specialises in Gastroenterology medicine.
The multi disciplinary team also specialise in Nutrition support and care.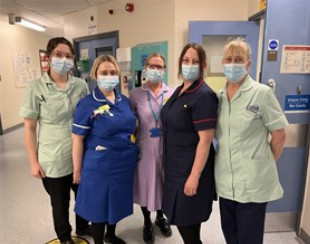 Contact Details
Tel: 024 7686 5107
Ward Manager - Cristina Stevens
Clinical Sisters - Charlotte Harris, Kala Sherchan
Ward Clerk - Angeline Croshaw/Shayla Smith
---
Alexandra Ward is a 28 bed acute surgical ward supporting a wide variety of conditions including Orthopaedic, Urology and Gynaecology patients.Our Team: Hard working, friendly and outgoing team includes Ward Sisters, Nurses, Health Care Support Workers and Student Nurses. We currently have 15 consultants supporting our patients.
We work closely with Clinical Nurse Specialists, the Palliative Care Team, Pharmacy, Dieticians, Nutritionists, Physiotherapists, Occupational Therapy, Tissue Viability and Outreach Teams
Consultants hold daily ward rounds supported by our dedicated teams
Participating in a 'Safer Discharge Project' with Nurses, Pharmacists and Consultants to improve the patient experience
We work very closely with the palliative care and End of Life team to support our patients and their families during the terminal phase of their illnesses as we have many palliative patients on the Ward. We have been commended by both palliative care and End of Life teams for the work we do. Staff members have also received specialist palliative training.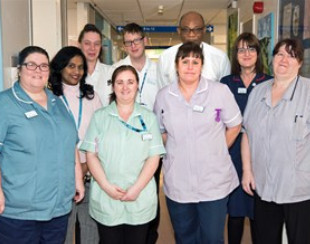 Contact Details
Tel: 024 7686 5145
Ward Manager - Jessica Densley
Clinical Sisters - Lorraine Timson, Stacey Thorne
---
Sisters, Staff nurses, Doctors, Physician Assistants, Health Care Support Worker, Ward Clerks, Hostesses, Domestics, Students and Volunteers.
18 bedded ward specialising in care for older adults
Caring for patients with complex needs through a strong patient and carer centred multi-professional approach
Dedicated dayroom and garden patio area are adapted for patients with dementia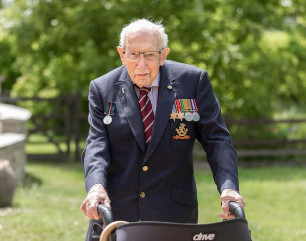 Contact Details
Tel: 024 7686 5761
Ward Manager - Stephanie White
Ward Sisters - Seema Gurung and Rachael Richardson
---
The Captain Sir Tom Moore Unit consists of two wards:
Florence Nightingale: Elective Orthopaedic
Mary Seacole: Elective Surgery (including urology, gynae, colorectal)
Each ward has 15 beds
We work closely with physiotherapy and Occupational Therapy
Patients should enter the hospital via Entrance C located to the right of the main building near the Arbury Lodge Entrance.They will be met at the door and have their temperature taken before being taken to the unit.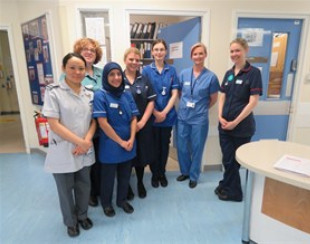 Contact Details
Tel: 024 7686 5294
Ward Manager - Vicki Cheney
Ward Sisters - Manisha Gurung
Secretary - Sandra Whopples
---
An 11-bed unit providing care to patients with cardiac related conditions such as acute coronary syndrome and other cardiac conditions, some of which are long term.
Contact Details
Tel: 024 7686 5090
Delivery Suite Manager - Jo Aldhouse

Contact Details
Tel: 024 7686 5053
Ward Manager - Cheryl Hughes
---
Drayton is a 23 bedded ward for antenatal and postnatal women. We can be found on the second floor of the maternity building (there are two lifts as well as stair access).
We also have a bay that is used for any women having their labour induced.
This ward is where you and your baby go following delivery and you are cared for by midwives and health care support workers.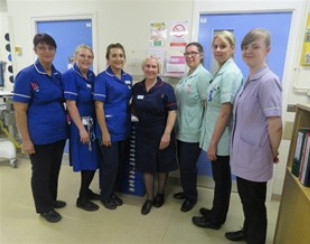 Contact Details
Tel: 024 7686 5143
Ward Manager - Joanne Stincavage
Clinical Sisters - Jenny Tanner, Nicola Davies
Ward Clerk - Shannon Higgins
---
Elizabeth Ward is a 27 bed medical ward that cares for patients with respiratory conditions.
Our team cares for patients during an acute deterioration of a long term condition with the support of the respiratory team.
We provide care for the following medical conditions: COPD, Lung Cancer, Asthma, ILD, bronchiectasis, pneumothorax and septic patients
The ward also takes care of post Intensive Therapy Unit (ITU) medical patients
We provide a nurse led service to patients requiring non-invasive ventilation
Our ward has a respiratory support service room to carry out medical procedures within the ward
We are supported by daily consultant ward rounds
We work closely with our specialist nurses, outreach team, social workers, physiotherapist, occupational therapist and dieticians to provide a comprehensive multi-disciplinary team approach to care.
Contact Details
Tel: 024 7686 5173
Ward Manager - Nina Burgess
Clinical Sisters/Charge Nurses - Rachel Steatham, Jamie Leedham, Mary Premila
---
Patients who need continued treatment in hospital after being seen at the specialist stroke unit at University Hospital, Coventry, might be transferred to our bedded rehabilitation unit at George Eliot Hospital in Nuneaton, or Royal Leamington Spa Rehabilitation Hospital in Warwick. Patients who do not require continued hospital treatment but do need continuing specialist support with their recovery will be treated at home by the Community Stroke Rehabilitation Service.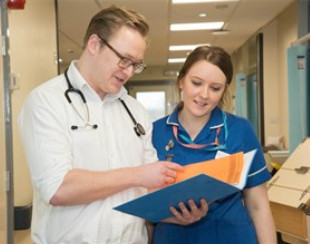 Contact Details
Tel: 024 7686 5085
Ward Manager - Karen Lowe
---
An 18-bed medical ward focusing on Gastroenterology.
Mary Garth shares its medical team with Adam Bede ward and provides care for patients with medical conditions particularly those living with one or more long-term condition.
Contact Details
Tel: 024 7686 5115
Ward Manager - Aimee Murray
Clinical Sisters - Danielle Roper, Emma Bromage
---
26 bed Acute Medical Ward specialising in Cardiology, Haematology, Oncology & Endocrinology.
Strong multi-professional approach and a dedication to achieving the best outcomes for our patients
Our Team includes: Ward Manager, Clinical Ward Sister, Medical Staff , Staff Nurses, Health Care Support Workers, Therapists and Pharmacists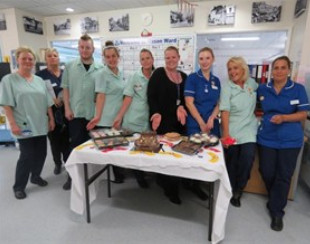 Contact Details
Tel: 024 7686 5235
Ward Manager - Tracey Evans
Clinical Sisters - Samantha Allen, Girlie Almen
---
27 bedded ward for patients with Trauma and general Orthopaedic needs
Our team includes:
4 Registered Nurses and 4 Health Care Support Workers in the morning. 4 Registered Nurses and 3 Health Care Support Workers in pm / night
Patient support and management of a range of Orthopaedic needs including:
Lower & upper limb fractures
Spinal fractures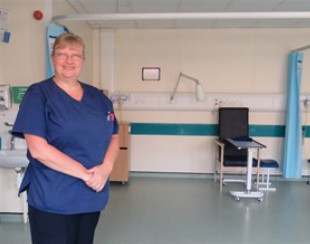 Contact Details
Tel: 024 7615 3472 / 3124
Ward Manager - Debra Heard
Clinical Sisters - Samantha Allen, Girlie Almen
---
Romola is a 9 bedded, Elective Orthopaedic Ward based on the ground floor of the hospital on the right hand side after the chapel.
This same sex accommodation unit supports mainly patients with hip, knee and shoulder replacements
Our expected length of stay for primary hip and knee joint replacements is 24 – 48 hours for shoulder replacements, it is 24 hours.
Our aim is to sit patients out of bed 6 hours post operatively.
We encourage our patients to sit out of bed for breakfast on the first morning post operatively, ready for our physiotherapist to start the rehabilitation process.
Romola ward works closely with physiotherapists and occupational therapists to support our patients.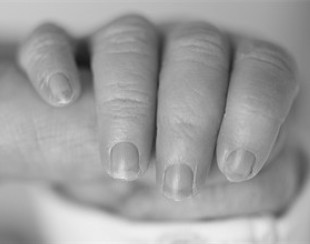 Contact Details
Tel: 024 7686 5258
Unit Manager - Maria Bull
---
Our Special Care Baby Unit has 12 cots for babies who need a bit of extra help.
Our babies are cared for by a multidisciplinary team of doctors, neonatal nurses, registered nurses, nursing associates, health care support workers and allied health care professionals including and not exclusive to dieticians, pharmacist and Speech and Language therapists.
We follow the philosophy of Family Integrated Care (FICare) which means you will be fully involved in your babies care and decision making whilst being supported by the nursing and medical team.
Please scan the QR code below or click here for a virtual tour of our unit.
Please accept our apologies, we are only able to provide information to parents.
You should be updated by a senior doctor about your baby's condition and treatment within 24 hours of admission.
We encourage parents to attend the daily ward round, where the nursing and medical team will review your baby and discuss the plan of care.
Visiting:
We welcome parents and siblings at any time, day or night.
Please ring the buzzer to enter the Unit, and remove outdoor clothing.
Everyone should wash their hands with soap and water, apply alcohol gel and a surgical facemask before entering the nursery.
You are welcome to take photos of your baby but please do not answer your mobile phone in the nursery.
Well, supporting adults may visit between 2pm- 7.30pm.
The only children to visit should be baby's brothers and sisters. Children under 12 years of age can be in addition to 2 adults at the cotside.
All visitors must be accompanied by a parent, with a maximum of 2 people at the cotside. At times, visitors may be asked to wait in the waiting area, during feed times, for safety, privacy, or to facilitate parental bonding. We will aim to minimise these times. Grandparents are able to hold well babies that are in a cot with parental consent.
Further information can be obtained from the nursing staff or information folder.
Information for Parents
Mental Health Support for Parents
Useful Leaflets
Contact Details
Tel: 024 7686 5105
Ward Manager - Jenny Mugglestone
---
Victoria ward is a 27 bed acute medical ward.