Work Experience is a fantastic way of learning more about the hundreds of career options available to you through the NHS and gaining experience in order to make career choices whether you are at college, applying to University, or seeking experience prior to gaining employment.
To provide high quality opportunities to experience the culture and 'real feel' of a health based workplace.
Provides an introduction to the behaviours that are expected within the workplace, such as effective communication, punctuality and treating people with respect
To provide work experience for those considering a career within a clinical area- work experience is vital for your higher education application
About our opportunities
Work Experience: Our work experience opportunities are unpaid, and will last 5 days in length, hours varying between 09:00-17:00 depending on what the department can offer. This is open to applicants who are aged 16 years and above. We have many departments available for work experience, a few examples are:
Clinical

Maternity

Nursing

Children's Assessment Unit (Children's Nursing)

Radiology

Special Care Dental Clinic (based across Warwickshire)

Audiology

Physiotherapy

Theatres

Cancer Services and Elective Care

Anaesthetics and Recovery

Occupational Therapy

Lucy Deane (Renal Unit)

Medicine

Haematology

Endo/ Diabetes

T&O

Radiology

Cardiology

Urology

Gastro

A&E

Rheumatology

Administration

Finance

Financial Management

Human Resources

Portering

Chaplaincy

Outpatients Medical Record

Governance

PALS (Patient Advice and
Liason Service)

Stores

Tissue Viability Admin

Communications

Business Development

Health Records- Bayton
Road

Estates
NHS Career Taster Days: These are available for students in Years 10-11 which aim to show students the vast array of jobs the NHS has to offer. This will be organised through your schools.
Updated 2023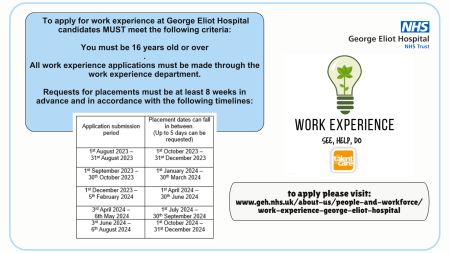 Please see our application form and Occupational Health questionnaire which needs to be completed before a placement or taster day can be arranged:
Work Experience application form
Occupational Health Questionnaire
Applications should be returned to the Work Experience team via email to: work.experience@geh.nhs.uk
When completing the application form, please be clear about the area of the NHS you would like to experience, and ensure that you fully complete all sections of the form. Applications are treated on an individual basis.
Due to a high number of work experience applications, priority will be given to those living or studying in the Nuneaton and Bedworth area. For those living in south Warwickshire, Solihull and Coventry please contact the below email addresses.
South Warwickshire - Work.experience@swft.nhs.uk
Solihull - work.experience@heartofengland.nhs.uk
UHCW - workexperience@uhcw.nhs.uk
C&W PARTNERSHIP TRUST Work.Experience@covwarkpt.nhs.uk
If you have any concerns with the above, please contact work.experience@geh.nhs.uk we will be happy to answer any queries.
To apply for work experience at George Eliot Hospital candidates MUST meet the following criteria:
If in education you must have finished year 11
All work experience applications must be made through the work experience department- candidates/relatives who make contact with members of staff or departments directly should be signposted to the application process
Requests for placements must be at least 8 weeks in advance
Please be aware that we cannot always accommodate every application that we receive- this is usually because either your application does not fit the criteria, or more likely is that there is no capacity within your chosen area or speciality for the dates you have requested.
We advise that you are as flexible as you can be with the dates that you request.
You will be contacted if the work experience department are unable to offer you a placement.
| | |
| --- | --- |
| Question | Answer |
| Can I apply for more than one placement at a time? | Unfortunately due to the high demand for places we can only process one application per candidate per year. |
| If I apply today, can I do the work experience next week? | No, this does not allow enough time for the department to consider your application. The process can take up to 8 weeks so please allow enough time for your application to be processed. |
| I'm emailing my application so how can I sign it? | To show that you've understood the terms and conditions, you can type your name and the date. |
| I am a second year university student looking for a placement year for my third year. | We only offer placements for a maximum of 5 days. |