Published on: 18 April 2023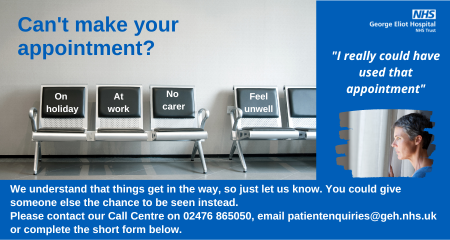 A new online portal is giving patients at George Eliot Hospital a new, simple way to ensure their appointments are at the best time for them.
The system also means that appointments can be given to others, reducing the time that some people wait for tests and treatment.
Dr Catherine Free, Managing Director for George Eliot Hospital, said: "This gives patients a great way to take control of their own care, ensuring they can get treatment at a time which better suits them and will also help us to reduce waiting times for many more people.
"We fully understand that sometimes people can't attend the appointments that they are given, issues such as not having access to transport, difficulty taking time off work or arranging childcare can make it difficult.
"That is why we have made it as easy as we can for patients to tell us they can't make it so we can arrange an appointment more suited to them."
Patients are able to fill in their appointment information alongside a reason they are unable to attend in a secure online form; the information is sent directly to the hospitals booking team who will contact the individual to make an alternative appointment.
Across the whole NHS, 122 million appointments were booked last year (2021/22), and around 6.4% of these were missed without notifying the relevant organisation. That equates to around 7.8 million appointments a year or 650,000 a month.
The financial impact of missed appointments is hugely significant to the NHS and therefore the taxpayer as well as having a negative impact on the waiting times for those most in need.
Dr Free continued: "Every appointment freed up could be used to see other patients, including those who have been waiting the longest for an appointment or treatment.
"Around four in five people on an NHS waiting list are waiting for an outpatient appointment which include Physio, Orthopaedic and minor eye procedures.
"By letting us know as soon as possible that you are unable to make, or no longer require your appointment you will help us deliver care to those most in need much quicker as well as ensuring you are seen at a more suitable time for you."
To let us know if you are unable to make or wish to cancel your appointment please visit www.geh.nhs.uk/contact-us/attending-appointments and take control of your care.
Please contact our Call Centre on 02476865050, email patientenquiries@geh.nhs.uk or complete the short form on our attending appointment page