Published on: 15 May 2023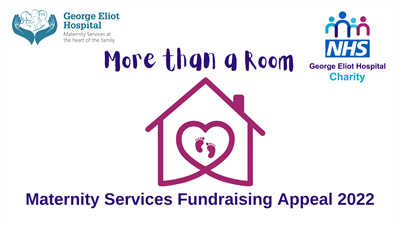 A final push is being called for to help provide an essential environment for bereaved parents at George Eliot Hospital.
The 'More Than a Room' appeal, launched in October 2022, with a target to raise £28,000 to upgrade the hospital's two maternity bereavement rooms. The rooms are essential is proving a comfortable and safe environment for parents who have suffered a miscarriage or loss of a baby.
Organisers, George Eliot Hospital charity are now calling on the local community to help reach the final target and add the finishing touches. Donations so far have been vital in getting the building works completed however the campaign still needs £6,000 by June 2023 to get the important rooms finished.
The two rooms at the heart of the campaign; 'Harry's Room' and the Maternity Bereavement Suite. The rooms have already started their transformations however there are still lots of work to be done on the rooms including new doors, decorating and furniture to ensure that the rooms have a home-style feel.
Sanjay Jagatia, Fundraising Manager at George Eliot Hospital Charity, said: "We are getting so near to the rooms being finished and reaching our target, however, we are calling on our community to help us with the final part of the campaign so that we can get the rooms completed by June 2023.
"The impact of these rooms can't be understated, having this facility gives parents a place of privacy and solace at an incredibly sad time, we simply must make these as perfect as we possibly can.
"It's really quick and easy to support us– you can either donate to us directly via JustGiving page/cheque/cash donation to our main reception or hold a fundraising event on behalf of the appeal or spread the word by sharing our posts on social media. We also welcome corporate donors to get in contact with us too."
For corporate donor/individual fundraising queries, please email GEHCharity@geh.nhs.uk