Published on: 27 March 2023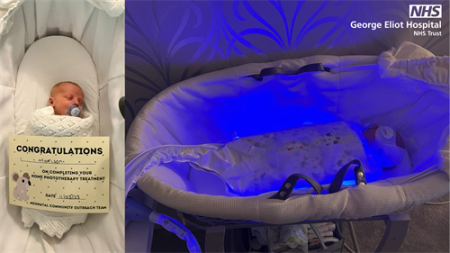 The first baby to receive pioneering Home Phototherapy from the Neonatal Community Outreach Service using has now been discharged safe and well.
Harrison Smith and his parents Bethan and Lewis have been the first family to benefit from the pioneering service which enables phototherapy, a form of treatment that uses ultraviolet light to treat conditions, to be provided at their home rather than in hospital.
Baby Harrison was born at 37 weeks and developed jaundice shortly after being discharged due to increased bilirubin levels which kept reoccurring. This required multiple prolonged hospital stays but was offered the home phototherapy service which has transformed their early weeks together.
Bethan said: "When we heard Home Phototherapy was available if Harrison met the criteria, it was amazing. Thankfully he did and within hours we were at home with our baby boy, fully equipped with everything we needed and given a full demonstration on how to use it.
"It was remarkably simple and easy to use - essentially like a swaddle blanket providing Harrison with comfort and a feeling of being safe and wrapped up, which babies adore. He was so relaxed, not feeling unsettled or upset once. Harrison and I were able to keep bonding as I could still hold him and have close contact as much as we needed; something we may have missed out on at this vita time in his life."
The system which has made this innovative treatment possible is called Bilicocoon, providing a safe, effective and easy to use service for parents to care for their babies at home with the support of the George Eliot Neonatal Community Outreach Service.
Lewis said of the importance of the service to their family: "Having phototherapy at home changed everything for us as a family. We struggled a lot being in the hospital 24/7, swapping between mum and dad and having two children at home who needed us and missed us so much. It was so challenging emotionally and mentally,
"The opportunity to come home and continue the phototherapy was a game-changer. We were a family again, and our boys were all together and happy. Harrison's bilirubin levels dropped drastically within 24 hours, and his levels then stabilised meaning no further treatment was needed.
Bethan added: "The team were truly sensational, making us feel at ease with everything and being companionate and caring all the time. They called and texted to ensure that we were okay and to check on Harrison. They also came to our home to conduct blood tests and observations, which was wonderful as everything was done in the comfort of our home.
"We highly recommend the Senior Neonatal Community Outreach Service to any families whose babies need phototherapy and couldn't recommend it enough following our experience.
"We can't thank you all enough for making a tough situation easier for Harrison and us as a family!"
Keira Woodier, Senior Neonatal Community Outreach Administrator for George Eliot said: "We are extremely proud to launch the service and see the impact that this is having on reuniting families together at home while providing the care required for baby.
"This makes a huge difference for families at such a vital time and we look forward to helping bring more families together with this innovative and pioneering care."